Rocky Ford Junior Senior High School currently has 13 active COVID cases among students. To prevent further spread of the virus, the Junior Senior High School will be on remote learning tomorrow (Thursday, Nov. 18) and again on Monday (Nov. 22) and Tuesday (Nov. 23). In-person services for the Junior Senior High School will resume on Monday, Nov. 29. Washington Primary School and Jefferson Intermediate School do not currently have any active COVID cases among students. Therefore, Washington and Jefferson will remain in-person. Further details will be shared with parents of Junior Senior High School students shortly.
Washington Primary School's Math Night!! Tonight!! @ 5:30pm. We strongly recommend masks for unvaccinated individuals.

Parent teacher conferences for Jefferson Intermediate scheduled for Thursday, November 11th and Friday, November 12th will be held remotely. Your child's teacher will contact you to set up a conference via phone call or Zoom meeting.
In response to Otero County entering the RED stage for COVID-19 Rate Status, RFJSHS Parent/Teacher Conferences will be held remotely this week. Please email teachers directly to set up a virtual conference time. Conferences are from 4:30-8pm on 11.11.21 and 8am - 12pm on 11.12.21.
Washington Primary School Math Night!! Tuesday, November 9 @ 5:30pm. Join us for some fun ways to practice at home and support your students' learning.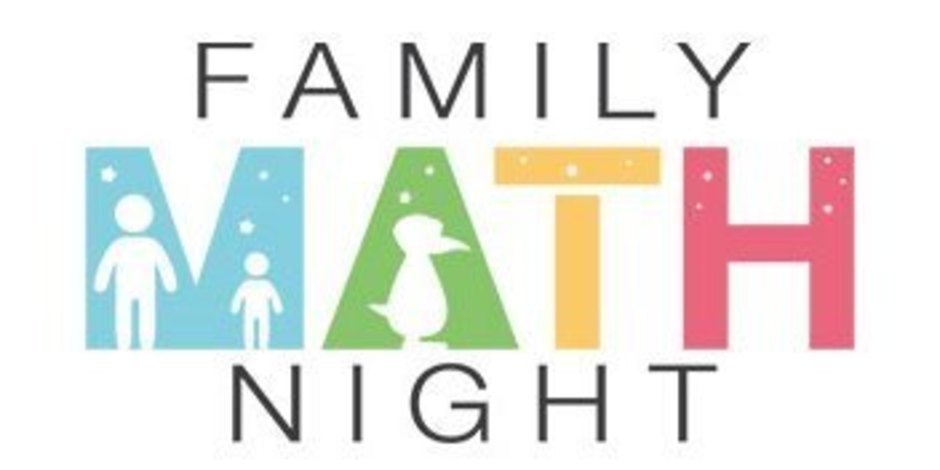 For the week of November 1st, Washington Primary School recognizes the following students of the week as they demonstrated the character trait: Kindness Sean Montoya, Jr., Esai Vallejos, Celeste Torrez, Atreyous Ramirez, Santino Apodaca, Jr, and Skyla Smith Not pictured Maceo Maldonado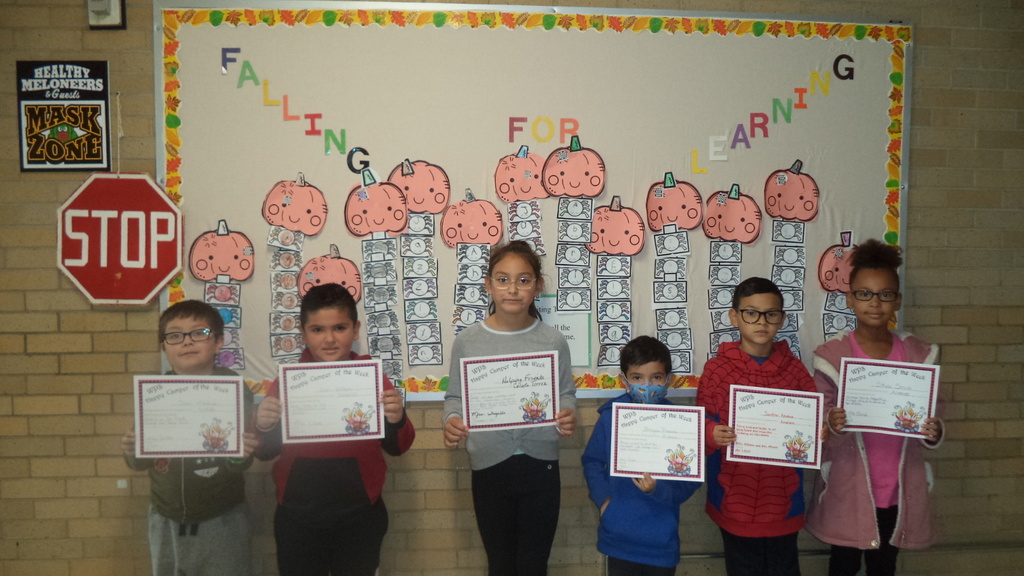 RFJSHS Parent Teacher Conferences: 11.11.21 from 4:30pm - 8pm and 11.12.21 from 8am - 12pm. Students with last names beginning with the letters A-L, please join us from 4:30 - 5:45pm on 11.11.21 and from 10am - 12pm on 11.12.21. Students with the last names beginning with the letters M-Z, please join us from 6pm - 8pm on 11.11.21 and from 8am-10am on 11.12.21.


This picture is from today's semifinal performance for our Rocky Ford High School marching band at the state competition. The semifinal results are in and the band has qualified for tonight's final! Only the top three bands are in the final! Wish them luck as they perform at 5:30 pm tonight at the CSU Pueblo football stadium!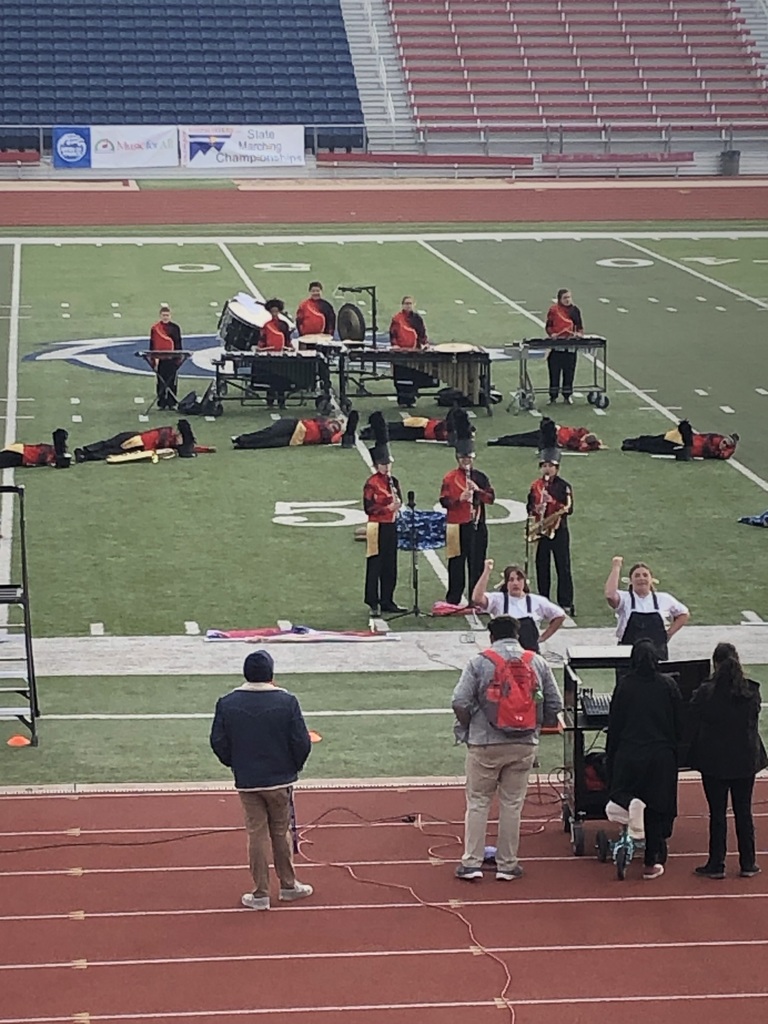 A friendly reminder from Rocky Ford School District: election day is tomorrow, Nov. 2, and ballots are due. Please make sure you turn in your ballot! Also, please help us maintain integrity with the vote by leaving the banners and signs alone. Wednesday morning, after the election, we can begin removing our own banners and signs. Let's support free speech and a fair vote!
RFJSHS Picture Retake Day - 11.3.21. Order forms are in the office.

Picture retakes are Wednesday, November 3rd at JIS. Envelopes will go home today and tomorrow with those students needing to have pictures taken. All students must have their pictures taken, even if they are not purchasing pictures. We need them for our school records. If students took pictures the first time and are getting retakes, please remember to send your original envelope back with your student. As always, pictures are available to purchase online at
www.mylifetouch.com
and use Picture Day ID: EVT94ZX8C.

Thank you to EVERYONE who helped out with donations of food, gifts or time to help make our Chili Supper successful! We truly appreciate each and everyone of you and we look forward to next year!

The Rocky Ford High School marching band is putting on one last performance for the community before their state competition. You can see their performance tonight, Oct. 29, at 7:30 pm by watching in person at the Melon Field or by watching the livestream on YouTube here:
https://www.youtube.com/channel/UCesxLEsQ2BBFNYQRfD4kIZw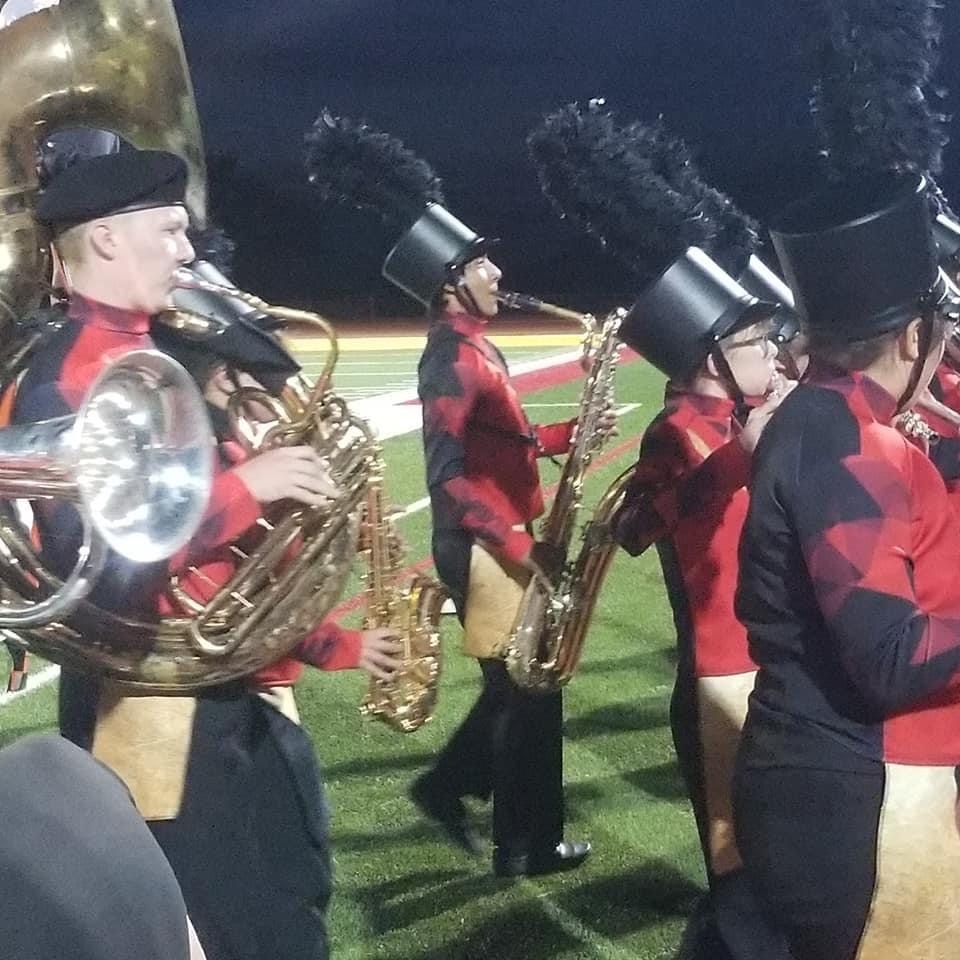 BOE Agenda for November 2nd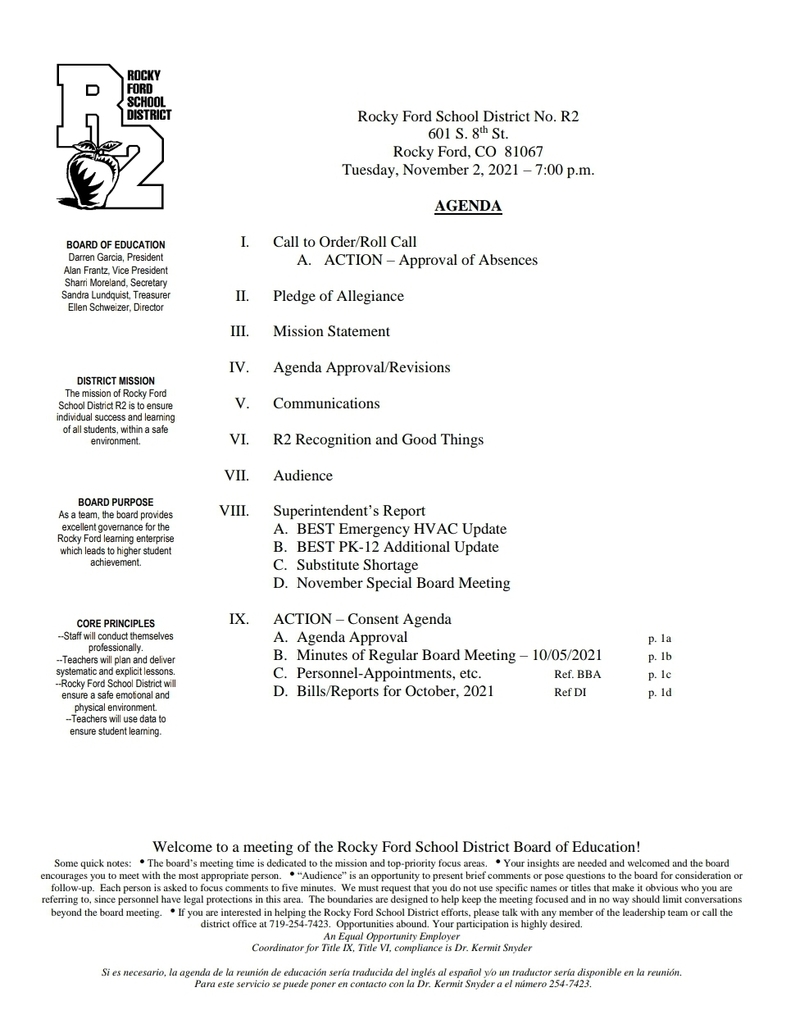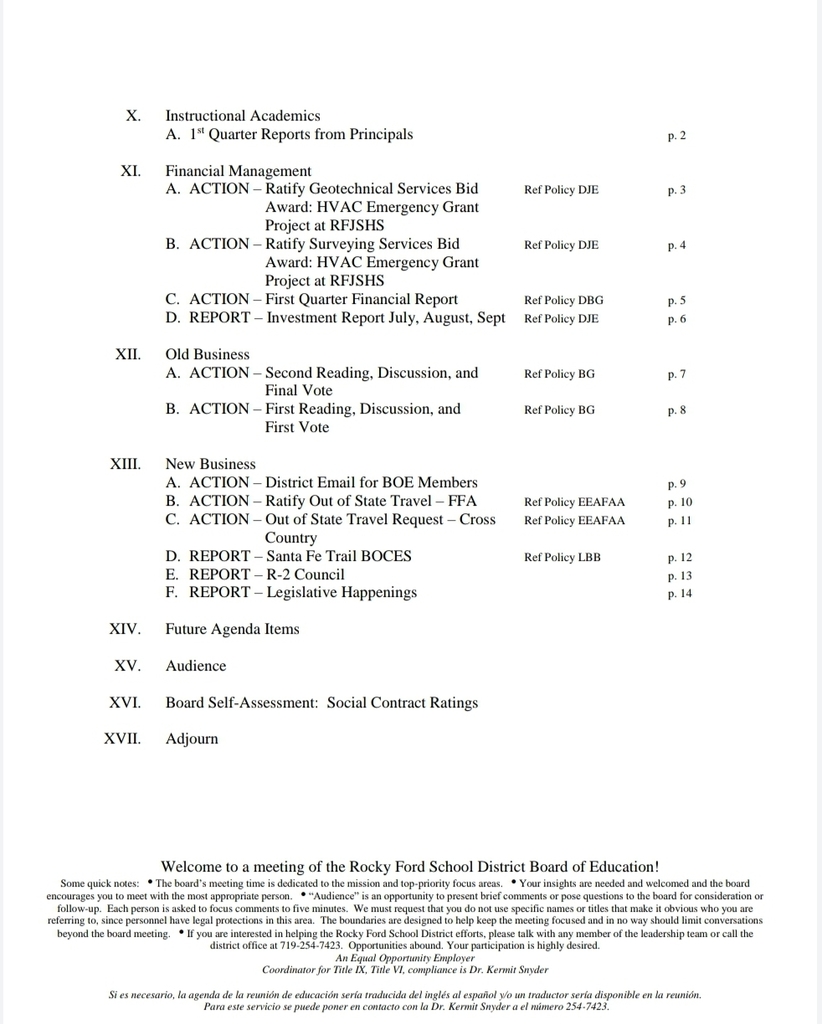 Here is the junior high tutoring schedule. If your child needs additional academic support, they can attend tutoring. Monday: Hildreth 7:00-7:30am Black 4:15-5:00pm Tuesday: Mameda 6:45-7:30am Rodriquez 4:00-4:30pm Wednesday: Perez 6:45-7:15am Thursday: Maes 7:00-7:30am Duff: 4:15-5:00pm
Washington Primary School invites you to participate in our Accountability Committee, Tuesday, October 26 at 6:00pm. We will plan on meeting in-person, but also have a virtual option as well. Join us at: Google Meet joining info Video call link:
https://meet.google.com/aes-apou-uyi
Or dial: ‪(US) +1 678-567-4924‬ PIN: ‪817 275 456‬#

Tuesday, October 26th from 5-8pm, GEAR UP will be hosting a 12th grade FAFSA night in the RFJSHS computer lab room 5. The Financial Aid Department from OJC will be coming to help. Please plan on attending.
Washington Primary School gives a shout out to our Students' of the Week for October 18, 2021. The Character Trait is Empathy. Silas Sosa, Joseph Roblero-Herrera, Charlie Lucero, Marley Wells Lovella Harmon, Analeyah Abeyta, Legacy Gallatin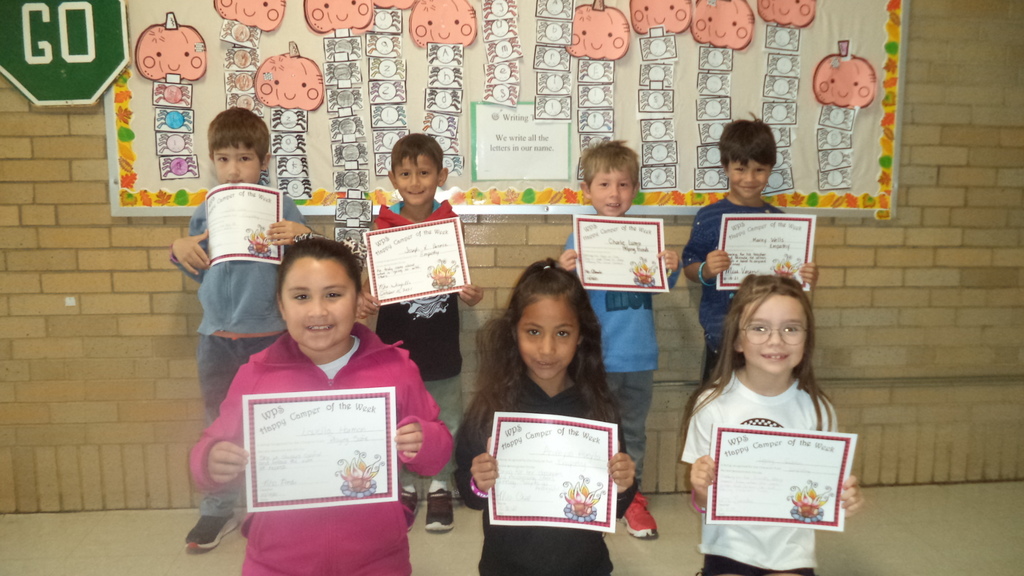 Did you know… The assessed value of a home or commercial property is only a small percentage of the actual value? 4B will cost the average homeowner in Rocky Ford less than $4 per month. It is one of the smallest bonds in the history of the BEST program and will have one of the biggest returns: $40 million.