JIS- Don't forget to attend JIS Literacy Night tomorrow, Tuesday, April 26 at 6:00pm.

Not sure who won the Hippity Hoppity race at RFHS after prom!

RFHS senior Nate Encinias scoring a Keurig at after prom!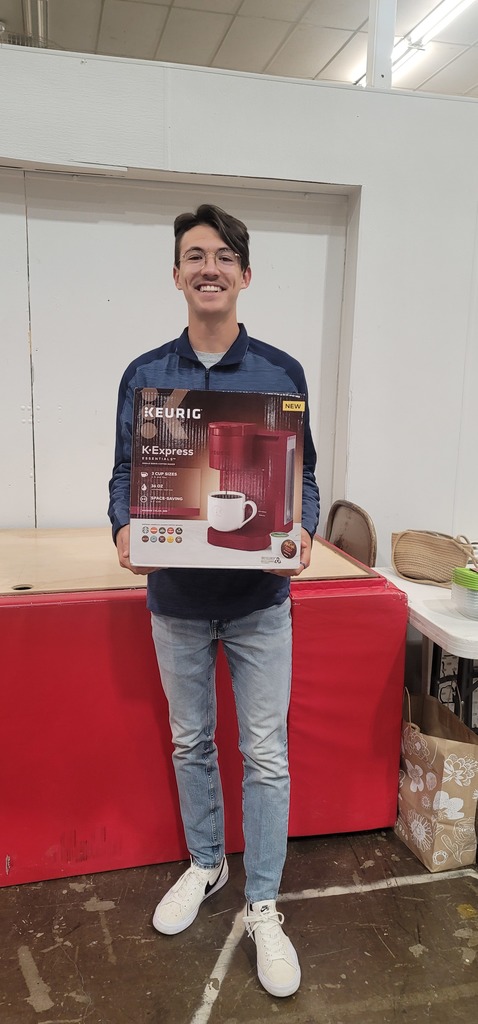 RFHS senior Ceniza Casias bringing home a gift from after prom!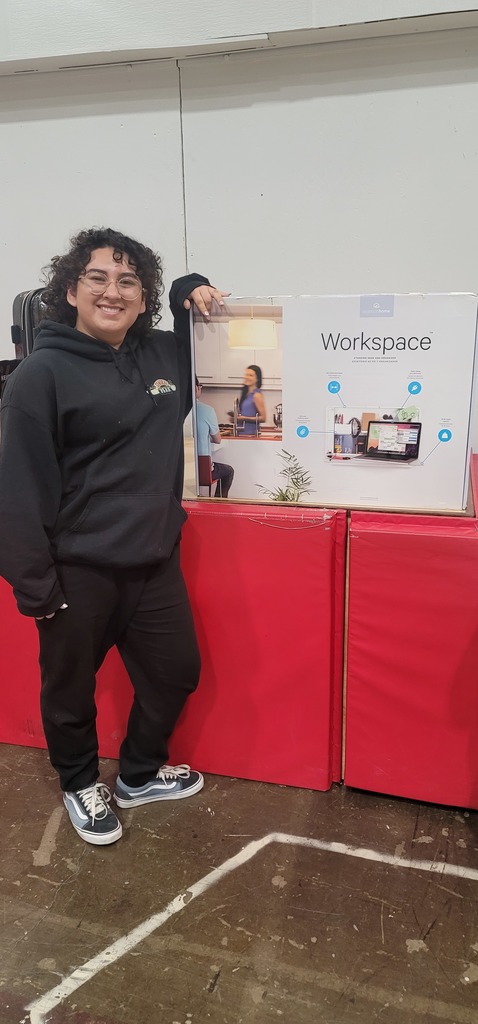 RFJSHS Happenings for the week of 4.25.22: 4.26.22 - SAT Make-Up Test, Golf @ Swink 9am, BB v Limon 4pm, JHBB @ Walsh 4pm 4.27.22 - PSAT 9/10 Make-Up Test 4.28.22 - Ag Exploration Day, JHBB v Holly 4pm, FBLA Officer Interviews 6:30pm 4.29.22 - Track @ RF 9am, JH Track @ Lamar 9am, JHBB v Kim 1pm 4.30.22 - BB @ LA 10am

Press Release: **This event is FREE for the media** Unique Demonstration for Teen Social Media Safety What: "Social Media Land Mines" Who: Magician & "Edutainer" Robert Hackenson Jr. Why: (See info below) Where: Rocky Ford Jr/Sr High Auditorium for ALL parents/caregivers of 4th –12 grade students When: Tuesday, May 3, 2022 @ 6:30pm Magician & Hypnotist Helps Youth Avoid "Social Media Land Mines" Cyber safety and magic don't usually go together, but on Tuesday, May 3, internationally recognized magician/hypnosis and wellness "edutainer" Robert Hackenson Jr. will be in Rocky Ford to teach cyber safety in an unexpected and engaging way! Teaching students about social media safety is critical. Whether it's getting addicted to technology, posting hateful things, hurting reputations, meeting people online or tarnishing your online reputation. It can be dangerous. Magician and "edutainer" Robert Hackenson Jr. is changing how teens post and use technology. This amazing presentation has allowed students across the country (in 47 states and counting), and around the world as far as Australia, to understand how to use this technology responsibly. His presentation infuses magic, eye-catching illusions, skits, and more in a way that engages students while reinforcing the educational lessons. Every piece of magic, story, video clip, etc. is used to deliver a message and make it memorable, without making light of this serious issue. His presentation helps start a conversation amongst parents and students about social media safety and responsible posting. The audience will leave understanding the importance of thinking before you post. To interview Rob or come to the event contact us at 508-963-5555 or
info@dynamicinfluence.com
IN AN INTERVIEW ROBERT CAN: • Discuss and perform magic tricks & illusions live on the air related to teen social media safety. • Discuss technology/social media's effect on: o Youth mental wellbeing o Communication & social skills • Social media dangers, including: o Cyber-bullying o Dangers of meeting people online o Posting too much information online o Sexting o Digital footprints and how what you post is permanent • 3 Rules to help ensure you post responsibly.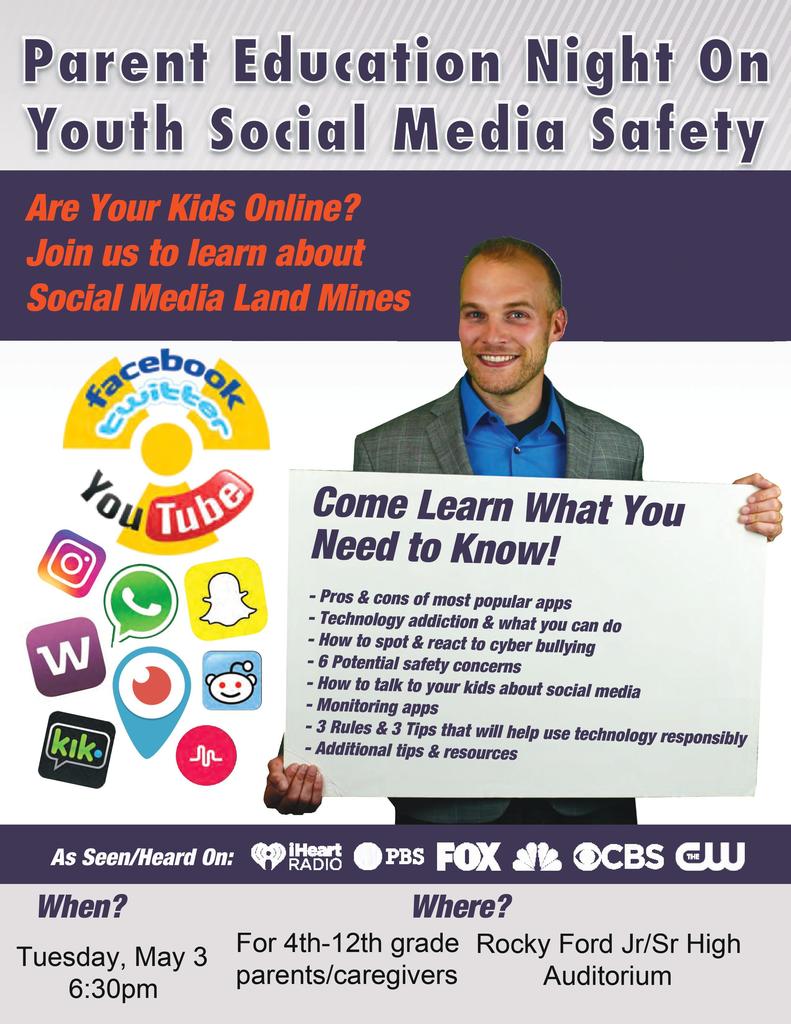 Congrats to Washington Primary School's Students of the Week for April 18. They are being recognized for the character trait - Perseverance. Oliver Case, Alyas Lopez-Barela, Drasen Pettie
JIS-Attention Parents/Guardians: JIS will be hosting a Literacy Night on Tuesday, April 26th at 6:00pm. Please plan to attend, your child will be sharing their projects and learning that has been going on.
JIS- 5th and 6th grade students will be attending AG Fest at Otero College on Tuesday, April 26th.
JIS- Attention Parents/Guardians- 5th & 6th graders will be attending the AG Fest at OJC on Tuesday, April 26th all day. Please make plans accordingly.

Join us for a parent presentation at 6:30pm on Tuesday, 5.3.22 @ RFJSHS auditorium on your kids and social media! Topics: - Pros & cons of most popular apps - Technology addiction & what you can do - How to spot & react to cyber bullying - 6 Potential safety concerns - How to talk to your kids about social media - Monitoring apps - 3 Rules & 3 Tips that will help use technology responsibly - Additional tips & resources

RFSD would like to invite parents to a youth social media safety presentation. Please see the flyer for details.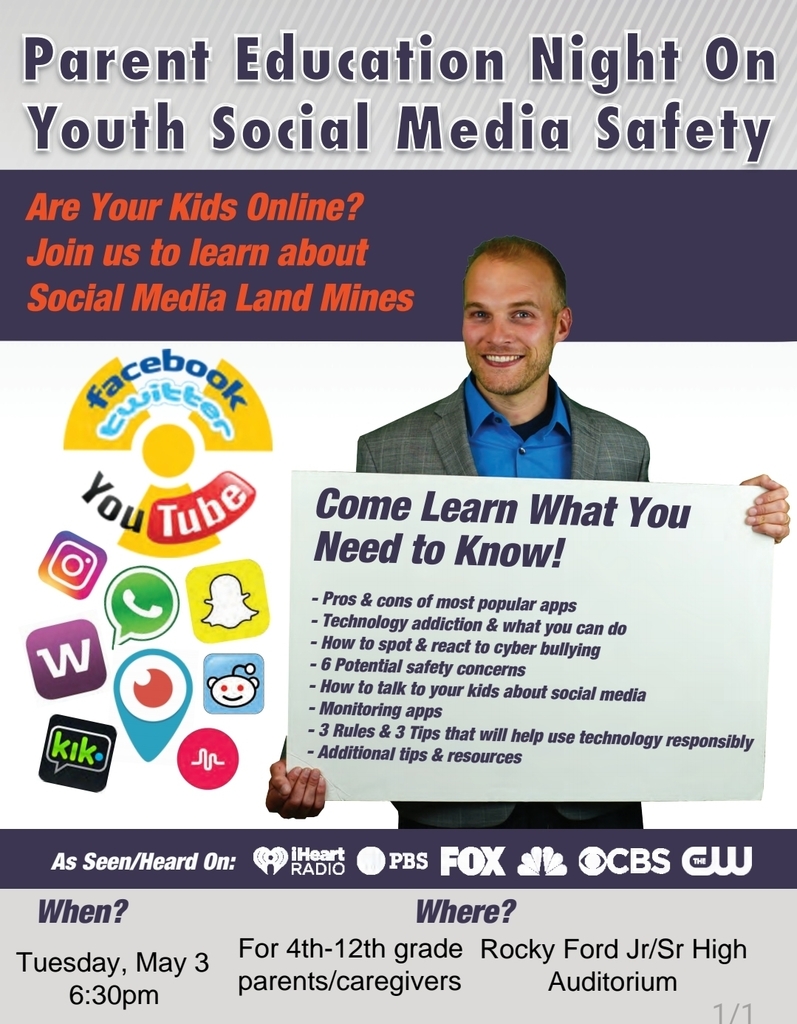 Come get a better night's sleep at the 4th Annual Mattress Fundraiser! Sunday April 24th from 10am-5pm in the RFJSHS Gym. Name Brand Mattresses, Adjustable Bases, Luxury Pillows, Sheets, and more! Financing is available. Donations are welcomed and all profits help the band and choir travel throughout the school year!

RFJSHS Happenings for the week of 4.18.22: 4.19.22: JH Track @ Walsenburg 10am 4.20.22: 8th CMAS Science Testing, Festival de Familia 6pm 4.21.22: FFA Banquet/Auction @ Elks 6pm 4.22.22: Track @ LJ 10am, BB v JM 10am, ELL Field Trip 4.23.22: Prom 8-11pm, After Prom Breakfast 11:30pm-12:30am, After Prom (high school gym) 12am - 2:30am
Washington Primary School recognizes the following students for "perseverance" for the week of April 11, 2022 Orion Coffman, Niliben Palencia Coc, Felicity McTaggart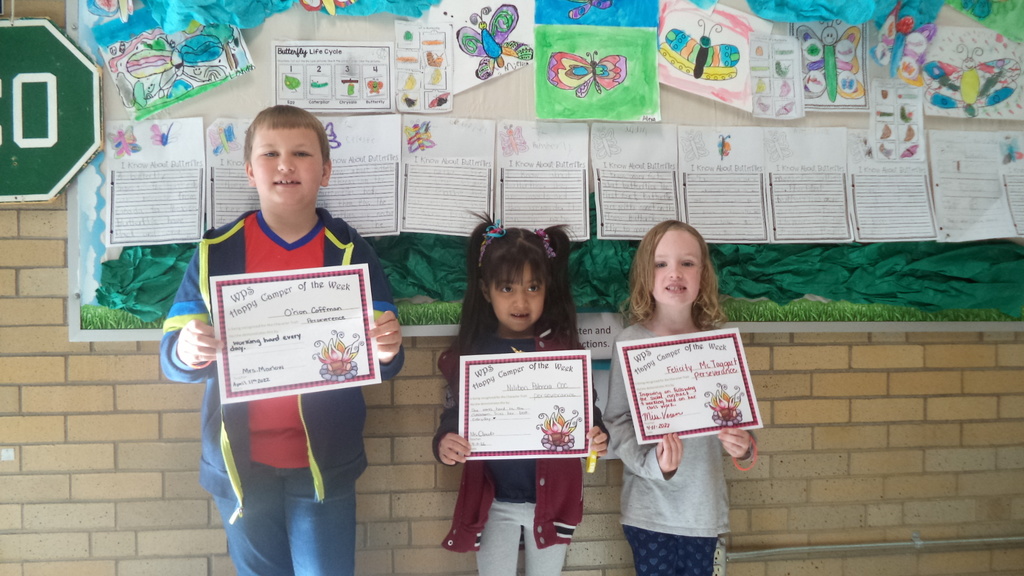 JIS- ATTENTION PARENTS/GUARDIANS: Please DO NOT use Burrell Ave to pick up your students from JIS, use the Parent Pick Up line. Your child's safety is our number one concern. Thank you for your cooperation and attention to this matter.

**JIS**CMAS testing begins tomorrow, April 11th. Students will begin testing right at 8:00am. Please make sure students are at school and on time every day.
Washington Primary School First graders performed on April 7. What a lovely performance - full of energy and fun spring-time songs! Thank you to the 100+ family and friends for allowing us to share in the pride you have for your children.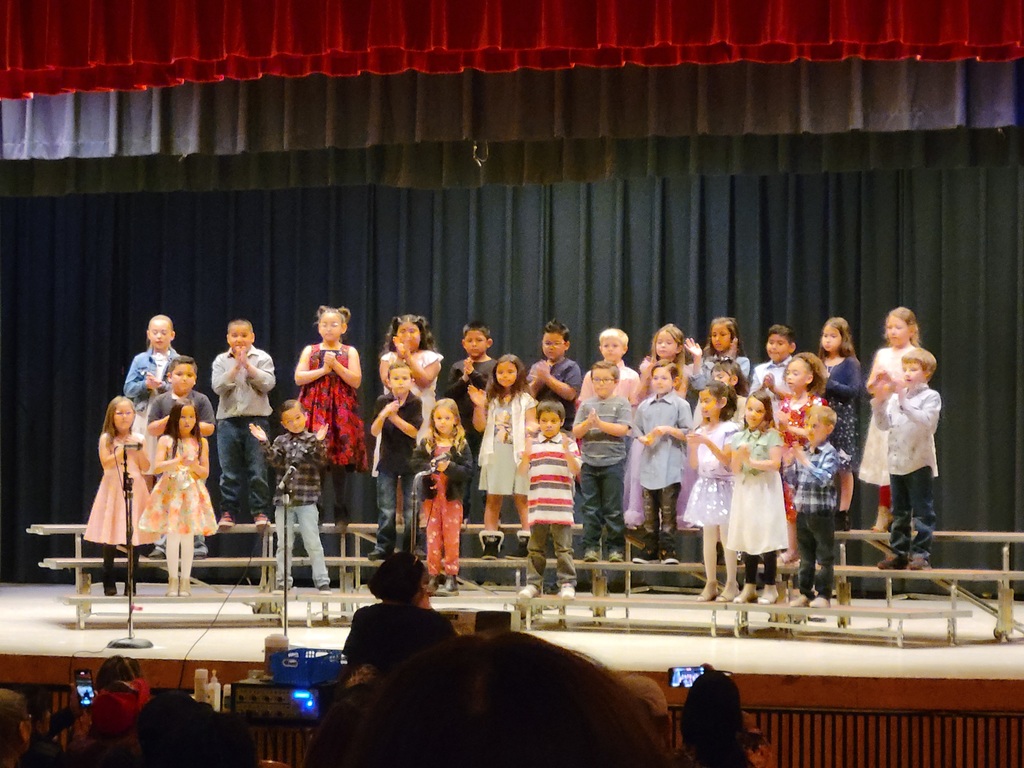 Washington Primary School recognizes students for the character trait of Perseverance for the Week of April 4, 2022 Nice Job! Mariah Chumacero, Martin Gonzales, Zeke Gallegos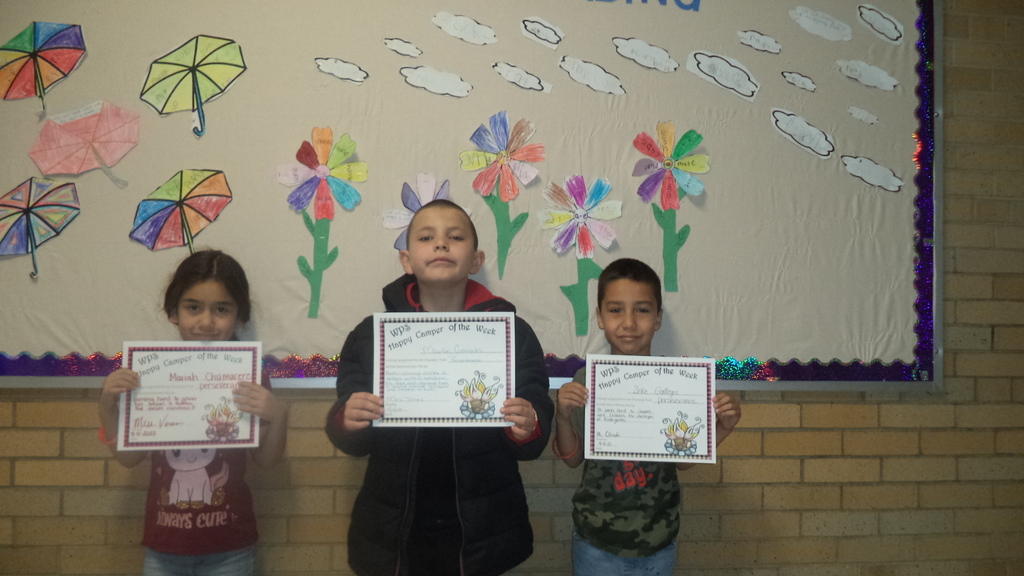 CORRECTION!! The Washington Primary School PreSchool Night is TONIGHT, APRIL 6. 2022 at 5:30pm.